"I'm not sure which is harder," says Michelle Tanner. "Going to the dentist or talking about oneself."
Luckily, Michelle's work does much of her talking for her: fresh, clean, modern. "I work actively to stay up on modern photography trends, but ultimately want to create a timeless product. I love the storytelling aspect of photography. I want you to look back on your images and be taken back to that moment, feeling the same feelings you did when the picture was captured."
Michelle also understands it can be overwhelming for couples and families to pick a photographer who best complements their personalities. "There are numerous photographers in the Twin Cities area, and we all have tons of passion for what we do," she says. As to Michelle, her emphasis is on great composition, without forced posing. She possesses a real knack for being in the right place at the right time, capturing natural moments as they happen. Her eye is quick and the shots are crisp, meaning images stand on their own without need for extreme editing or re-touching.
On the professional side, she aims for best possible communication – both timely and clear – before, during and after the wedding or session. She strives for optimism, honesty, organization, flexibility and – as much as possible – a stress-free day for you! Ever-calm amid the storm, Michelle remains "invisible" as needed, but can easily step up to guided directing at a moment's notice.
On the personal side, Michelle works to nurture genuine friendship with each couple. Married herself – and still madly in love with her husband of 15 years – she gets excited about every wedding, and treasures each opportunity to meet new people and bring her talents to their unique celebration.
When Michelle isn't busy capturing the highlights, she enjoys time at home. There, she and her husband raise and homeschool a handsome, funny and compassionate little guy they call Elliott – spinning LPs on the record player and playing board games ("I have yet to beat a certain 6-year old at Chess," says Michelle). She's especially passionate about a chemical/GMO-free, organic lifestyle. And, of course, doughnuts. In 2014, Michelle won the title of "Best Photographer" for the St. Louis Park Magazine published by Tiger Oaks Publishing.
Quick Facts About Michelle…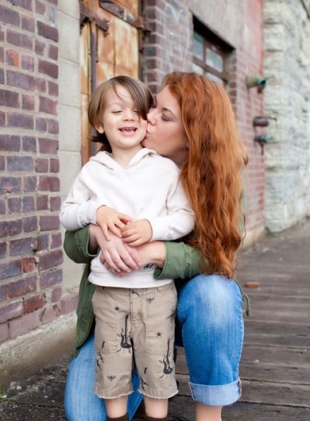 I believe in love at first sight. My 16-year marriage is my proof.
My world revolves around photography, my husband & son, and music. Not necessarily in that order.
You can get me to do anything with the promise of a cupcake.  I might even sing for you.
I think I'm funny. I am funny. What more do you want?
I'm a jeans & hoodie kind of girl. Add a pair of Toms & I'm ready to rock. But I promise not to show up to your wedding like that.
On any given day, at least 4 pairs of socks can be found between the sheets. I have no idea how they got there.
I once had a crush on a guy in a band. Then I married him. It's really cool to have a rocker husband. More cool than I could ever explain. (Catch Patrik on lead guitar with G.B. Leighton!)
I'm green. Not the color… the movement.  Although it may be interesting if a green photographer showed up at your wedding.
I married a Swede. When in Minnesota, I'm homesick for Sweden. And vice-versa.
Yes, My name is Michelle Tanner. No, I was not on Full House. My name is my husband's fault.
I will cry at your wedding. And probably eat cake. If that's ok with you.