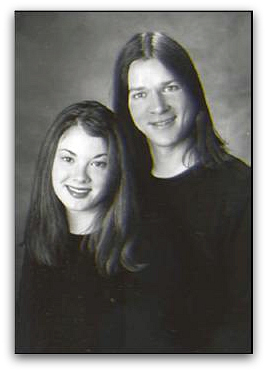 (Yes, yes… this is MY engagement picture circa 1999… pretty funny, huh?)
Music is huge to my family. Patrik, my husband, is a singer/songwriter and music producer. I met Patrik nearly 13 years ago. He had just finished producing one of Martin Zellar's (Gear Daddies) albums and he was touring with Martin Zellar; playing guitar for him. I happened to go to one of the shows in Minneapolis. It was March 13, 1998 to be exact. The minute I saw Patrik, I was in love. As the days turned into years and holidays came and went, Patrik would surprise me with the most awesome gifts in the world; songs written just for me. What girl doesn't want a song written about them, right? I'm a lucky girl!
One Christmas Patrik surprised me with this song — the song that is playing right now as you read this post. Now, I am Patrik Tanner's BIGGEST fan but this song smacked me over the head it was so awesome. I just know this song needs to be part of a Hugh Grant movie soundtrack. Don't you hear it/see it too?
Christmas is around the corner and the time is going to go so fast. I intend to enjoy every minute of the season with my family and my son, Elliott. Life is too short. So instead of shaking my head at the retailers who brought out the fake Christmas trees before Halloween and boycotting the radio until December like I am notorious for, I'm going to embrace it… all of it… the snow, the too soon Christmas lights, and the music.
This song, All Your Love (Is All I Want This Year), means the world to me. It has never been available on any of Patrik's commercial releases and no one outside of our family has even heard it. It's from our own personal archives. But this year we thought we would make it available for others to enjoy and listen to this holiday season. Below is an "add to cart" button. Should you want to enjoy listening to this song as you hang the lights, trim the tree and bake sugar cookies… please take a moment to download it. It's a steal, only a buck! You can listen to it knowing it wasn't manufactured by some big Nashville songwriting team.
It was written by a super handsome man who is in love with a pretty cute girl. I'm lucky to be THAT girl. I love you, Patrik.
Now… let the holiday cheer begin!

XOXOXO

!
(Click "Add to Cart" to buy the song. It will give you an immediate download! The Tanner's love you!)
www.michelletannerphotography.com
Will you "Like" me on Facebook?